Watch Video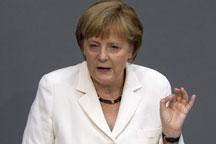 Play Video
Chancellor Angela Merkel said in a government declaration that proposals to give the European Central Bank new supervisory powers for banks in the euro zone were signals for a sustainable overcoming of the crisis. But the proposals would be ready by the end of the year.
She said, "This euro zone wide banking supervision shall be created based on a suggestion by the EU Commission and an unanimous vote at the Council, followed obviously by a national implementation in the parliaments. It's not going to happen in a single day and not in two weeks either. It's a longer process, a proposal for that should be ready by the end of the year."
Merkel was speaking after attending the two-day EU summit in Brussels. The fruitful meeting brought a bigger role for the European Central Bank along with other measures aimed at overcoming the eurozone debt crisis in a tangible and sustainable way.
Merkel called the approval of the fiscal pact and the European Stability Mechanism a signal of the bloc's unity and determination. She also urged lawmakers to back the eurozone's permanent stability mechanism and a new fiscal compact enshrining tougher budget rules in a vote due to take place in both houses of parliament.
Editor:Zhang Jingya |Source: CNTV.CN