Watch Video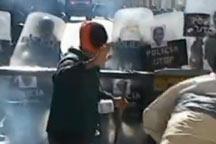 Play Video
Riot police in Bolivia's capital, La Paz, have clashed with indigenous protesters in an effort to evict them from encampments near the presidential palace.
The protesters have camped for several days to protest a road that President Evo Morales plans to build through a nature reserve.
The police used tear gas and a water cannon to disperse the protesters who threw rocks and other items back at the line. The leader of the Confederation of Indigenous Peoples of Eastern Bolivia said the eviction was an act of intolerance by the government.
The indigenous people walked for 2 months from their villages to La Paz to reject the planned road through the National Park and indigenous territory.
Meanwhile, two cabinet ministers met with other indigenous leaders from the area who support the construction of the route.
Related stories
Editor:Zhang Jianfeng |Source: CNTV.CN