Watch Video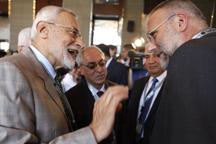 Play Video
Senior members of the opposition Syrian National Council say they want the Annan peace plan to be put under a U.N. provision, which could invoke measures ranging from sanctions to military intervention. The announcement comes ahead of a "Friends of Syria" meeting set to take place in Paris.
Ahmed Ramadan with SNC Executive Committee said, "The international community feels it needs to take new measures to ensure implementation of the Annan plan. The Paris conference must recommend issuing a new resolution under Chapter 7 and there should be clear support for the Syrian National Council and the Free Army."
Mohamed Faruq Tayfur with SNC Executive Committee said, "If there were serious measures to support the Annan Peace Plan under Chapter 7 of the UN Charter, or serious indications that the plan would be implemented, then we would have no problem. If there are no clear measures like this then the peace plan is useless, it's finished".
Editor:Zhang Dan |Source: CNTV.CN