Watch Video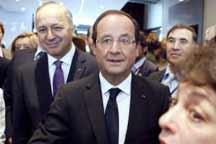 Play Video
Representatives from more than 100 countries are holding talks in Paris to decide what should be done to end the violence in Syria. The meeting of the "Friends of Syria" group focuses on more concrete plans to support the Syrian opposition, including equipping them with communications tools. It is the group's third meeting following those in Tunisia and Turkey. The move comes as violence in the country has prompted the United Nations to restructure its observer team.
Opening the Friends of Syira group meeting, French President Francois Hollande called for tougher sanctions against Syria's Bashar Al-Assad government.
Francois Hollande, French President, said, "I want to say that at this point, the Syrian crisis is a threat to world peace and stability. Bashar al-Assad has to leave power and a transition government must be set up. It is in everyone's interest. "
He also described the fall of Assad's government in Syria as inevitable and called for more action from the UN Security Council.
"One thing is certain, and that's that Bashar al-Assad's regime will not last. Its fall is inevitable and the arrival of the force of democracy in Syria will be determined by what we can decide together, and the earlier the better." Said Francois Hollande.
He indicated that France, along with its European partners, had already made significant progress. But he told other delegates that more has to be done by the UN Security Council.
Hollande's words were echoed by US Secretary of State Hillary Clinton.
Meanwhile, UN diplomats are working on a document calling for restrictions on commercial activity if Mr Assad fails to abide by UN and Arab League envoy Kofi Annan's ceasefire plan and roadmap for a political transition. The roadmap includes an interim government that would enable the Syrian people to live independently and democratically.
Related stories
Editor:Zheng Limin |Source: CNTV.CN