Watch Video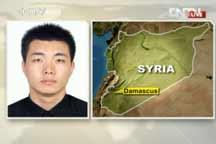 Play Video
The "Friends of Syria" meeting opens at the UNESCO headquarters in Paris on Friday. It's expected members will seek to exert more pressure on President Assad's administration and strengthen efforts to unite the opposition. Full Story >>
For more perspective on the meeting, let's cross live to our correspondent Yu Peng, who's standing by in Damascus.
Q1, How has the Syrian public reacted to the meeting? Do they think it will help solve the crisis?
Q2, Syrian Brigadier-General Manaf Tlas, who headed a unit of the elite Republican Guard and was a long-time ally of President Bashar al-Assad, has defected and is on his way to Paris. Can you tell us more about that?
Editor:Zheng Limin |Source: CNTV.CN