Watch Video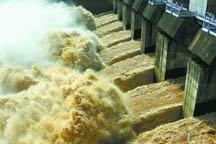 Play Video
According to China's State Flood Control and Drought Relief Headquarters, the trunk stream in the upper reaches of the Yangtze River has encountered this year's first severe flooding alert.
Since July 2, continuous heavy rain has caused 14 tributary rivers in the upper reaches of the Yangtze River to surpass the warning levels . Among these, 5 rivers have gone over safe water levels.
On Friday, the trunk stream at Cun Tan surpassed the warning level at about 0.93 meters. This formed the first peak flood for the river's upper reaches this year. As the peak flood coming from the Three Gorges Dam approaches, Gezhou dam has opened its dykes and improved sediment flushing. This is also the first time during the past 2 years that the Gezhou dam has dredged shoal in the channel.
Related stories
Editor:Zhang Ning |Source: CNTV