Watch Video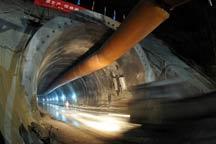 Play Video
Three railway workers have been trapped since last Saturday after a railway tunnel they were working on collapsed in the city of Loudi in central China's Hunan province.
Rescue operations are continuing. 200 more rescue workers have been added to the mission. The trapped workers have sent a video of themselves, shot with a cellphone, through a ventilation tube. Christy Scull has the story.
At around 9 pm Friday, the trapped workers sent up a self-shot video. From the video, the situation in the tunnel becomes clear, but only one worker named Cao can be seen.
At present, all three workers are in good condition. Food and daily necessities are well supplied. Some rescue workers have even sent items like an MP3 player and playing cards. In order to get the trapped workers out as soon as possible, 200 more workers have been added.
Wang Yonghong, Hongling Tunnel Project Dept., said, "At present, the number of rescue workers has almost reached 700. We are aiming to increase their rest times to ensure they have sufficient strength. We want to increase the rescue speed to the utmost. All the rescue workers are trying at all costs to save the 3 trapped workers."
Rescuers say it will take about three days to get the trapped workers out of the tunnel. The cause of the accident is still under investigation, but some experts are speculating that geological changes are to blame.
Related stories
Editor:Zhang Ning |Source: CNTV