Watch Video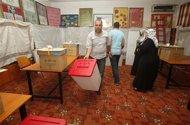 Play Video
Fears of militia violence and calls for a boycott have threatened to mar Libya's first nationwide parliamentary election after the death of Muammar Gaddafi.
On the eve of Saturday's vote, gunmen shot down a helicopter carrying polling materials near the eastern city of Benghazi. One election worker was killed. Also in the east, armed men have forced the closure of five oil facilities in protest over not being granted more seats in the new legislature. The current system allocates 100 seats to the west, 60 to the east, and 40 to the south.
The National Transitional Council has said the new parliament will now NOT be responsible for naming the panel that will draft Libya's new constitution. So far, 80 percent of Libyans eligible to vote, have registered for the election. More than three-thousand candidates have joined the election.
Related stories
Editor:Zhang Ning |Source: CNTV