Watch Video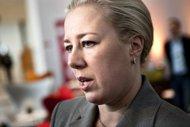 Play Video
Finnish Financial Minister Jutta Urpilainen says Finland would rather leave the eurozone than pay for the debt of other countries in the bloc.
She says her country will not hang itself to the euro at any cost and they are prepared for all scenarios.
Finland is one of a few EU countries to still enjoy a triple-A credit rating. Jutta said the country is committed to being a member of the bloc. But it will not agree to an integration model in which countries are collectively responsible for member states' debts and risks. She stressed Finland will play a constructive role in solving the debt crisis, but not on any terms. Her spokesman says the minister 's comments do not mean the country is planning to exit the eurozone.
The country will begin negotiations with Spain next week to obtain collateral in exchange for taking part in a bailout for ailing Spanish banks.
Related stories
Editor:Zhang Ning |Source: CNTV