Watch Video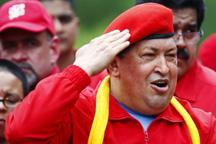 Play Video
Oil could play a pivotal role in Venezuela, ahead of its Presidential election in October.
As President Hugo Chavez seeks a fourth term in office, he faces a challenge from Henrique Capriles, who has strong support from the Venezuelan opposition.
One issue dividing the two candidates is how to manage the country's vast oil reserves, which are the world's second largest after Saudi Arabia. Stephen Gibbs has this report.
This is a country, and an economy, which is dependent upon oil.
The commodity accounts for more than 90 percent of Venezuela's exports.
For most of his presidency, that has been nothing but good news for Hugo Chavez. His rule has coincided with a worldwide boom in oil prices.
The president has been able to use the country's vast state oil company PDVSA as a cash generator, and direct champion of his social programs
Here is one example. This factory - funded by PDVSA - produces shirts and overalls in regulation revolutionary red for the government.
A factory manager says, "It is not like a private factory, where they have a daily quota which each person must produce. Here we know what is our responsibility , and we conscientiously work towards that."
But some suggest this has all been at the expense of investment in PDVSA's core operations. The company is currently at least 35 billion dollars in debt.
Professor Rafael Quiroz from Venezuela Central University says, "The problem of our Petroleum Industry today is that it needs to go back to the sole function for which it was created - the 5 stages of petroleum industry - which is explore, produce, refine, transport and sell petroleum. Nothing else."
The question of how to manage, and spend, the country's oil income is a likely issue in the upcoming presidential elections.
Opposition leader Enrique Capriles says PDVSA should have a less politicized agenda.
President Chavez insists that using oil to help the poor is what his revolution is all about.
Perhaps neither is quite right. Venezuela's sluggish economy-despite vast oil resources-has been a problem here for most of the last century.
Professor Rafael Quiroz also says, "All, absolutely all governments, before Chavez, during Chavez, and i am sure after Chavez too - when he goes it will be the same. The problem is that we get drunk at the party - from this river of petro dollars."
It is called the "resource curse" - whereby having massive reserves of what the rest of the world wants, can create as many challenges, as opportunities.
Related stories
Editor:Zhang Jianfeng |Source: CNTV.CN