Watch Video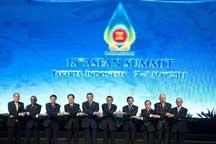 Play Video
China is the biggest trade partner of the ASEAN bloc. In 2010, the establishment of a Free Trade Zone brought economic cooperation to a new stage. Huge potential lies ahead, creating optimistic prospects for the two sides.
Chongzuo city in south China's Guangxi is playing a happy tune these days.
This young city shares a 500-kilometer border with Vietnam, positioning it China's logistics center for business with ASEAN members. Turning geographical advantage into economic benefits is no longer just a slogan.
Zhao Leqin, Communist Party sec. of Chongzuo city, says, "Trade volume between Chongzuo and ASEAN countries reached almost 5 billion US dollars last year. Our joint-venture with Thailand, the East Asia Sugar Group, tops the chart of China's sugar industry. And trade in fruit and wood products with Vietnam is also a significant part of imports and exports."
Well-connected highway networks and, a proposed high-speed rail project have helped make Chongzuo the No.1 export city in Guangxi seven years in a row. This year's trade volume with ASEAN nations is expected to increase 50 percent.
Guangxi is the only region in China that has direct access to Southeast Asia from both water and land. The region is undergoing rapid development. Cities in Guangxi, like Chongzuo is accelerating development while expanding cooperation with Vietnam and other ASEAN members.
The Chongzuo promotion event doesn't only mirror China's wish for deeper economic cooperation with ASEAN nations. ASEAN partners also clearly know that great potential remains.
Nguyen Van Tho, Vietnamese Ambassador to China, says, "The future is bright, and I think that with the commitment of two sides, the trade and investment and also indication of cooperation and so forth between Vietnam and China, between Vietnam and Guangxi will be in the interest of two peoples."
In addition, Thailand is also eying new projects with China. And the potential areas go beyond traditional agricultural and food products.
Minister of Royal Thai Embassy to China, says, "I just came back from Tianjin for the meeting of high-speed train between Thailand and China. China will extend I would say support and assistance of the projects into Thailand in two routes."
Economic cooperation between China and ASEAN is looking up. In the first five months of 2012, two-way trade increased by 9 percent. And both sides are looking forward to even more.
Related stories
Editor:Zhang Jianfeng |Source: CNTV.CN