Watch Video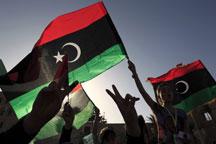 Play Video
The vote count has begun in Libya, following saturday's historic National Congress Election. Libya's election Comission is calling the poll a "success", with about 1.7 million registered voters taking part across the country - that's a turnout of 62 percent.
There's no clear timetable for the announcement of the results, but they should be unveiled within a week. As CCTV's Kofa Mrenje reports from Tripoli, many Libyans have been celebrating a historic day.
Vote counting started soon after the close of polling stations at 8pm local time sarturday in most parts of the country.
However, voting time had to be extended untill midnight in more than one hundred polling stations especially in the eastern part of the coutry,after they were opened late evening due to security concerns.
The mood in the capital was electric, just hours after polling centres closed. Song and dance filled the air, as thousands of Libyans gathered at the matyr square formerly know as the green square to celebrate this historic day.
Tripoli resident Mohammed Kekli said, "I can not explain how i feel in just few minutes. Maybe we need a week to make you understand this feeling."
Tripoli resident Sirajeddin Salim said, "We hope they will not not forget the revolutionaries. Because if they did not start the revolution, then we would not have been here today."
The young and the old, took the party to the streets. Some of them having voted for the first time in their entire lives. They say finally, they have a taste of democracy.
They dont know yet who has won and who has lost. Who will seat in the National Congress and who will not. But the fact that they voted, for the first time after 42 years of Ghadafi's rule, though for different candidates is enough to unite them, and make them pour into the streets to celebrate this day.
Sunday morning, and ballot boxes start to arrive at the national storage in the capital. Before results started arriving at the national Tallying centre.Tallying started late afternoon. It is not clear however, when exactly official results will be announced.
Nouri Al-Abar, Libya Election Commission Chief, said, " We can not say this week, tomorrow or day after tomorrow. We are all waiting and we will announce the results once we recieve everything."
The law indicates that the commission has ten days after the election day to announce the results. Election officials however, are hoping to announce the final results before five days.
Editor:Zhang Jingya |Source: CNTV.CN