Watch Video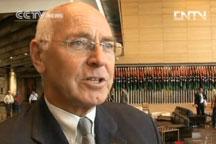 Play Video
The UN Secretary General's special representative in Libya has congratulated the country on holding its first election in more than four decades. Ian Martin said that so far, there had been no sign of any "malpractice" in the voting. He outlined the enormous task of bringing security to Libya, where rival militias are vying for power in many parts of the country.
Ian Martin, Un Special Representative to Libya, said, "I think it's important that the delay doesn't become the source of any suspicion. It certainly shouldn't. One of the great features of this election is that there have really been no allegations of malpractice at any level. Mistakes, sure in a first election, but no malpractice.
The euphoria of a successful election shouldn't lead people to underestimate how great those challenges are ahead. I think the one that voters have made clear is uppermost in their minds is security and that is the biggest challenge to continue the process that has only just begun, of integrating the former fighters into state security forces, building proper state security forces, reintegrating others into civilian life, providing jobs for young people."
Editor:Zhang Jingya |Source: CNTV.CN