Watch Video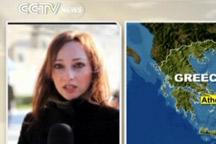 Play Video
A vote of confidence has been held in the Greek parliament, on the country's new government, after it was called by Greek Prime Minister, Antonis Samaras. It came after the government presented its policies on financial reforms and changes to austerity measures. Now for the latest on the confidence vote, we're joined on the phone by our correspondent Filio Kontrafouri in Athens.
Q1: How did the vote go, do you have the results yet?
Q2: How will today's vote influence Greece's bailout loan, and the country's relationship with the EU, the IMF and the ECB?
Editor:Zhang Jianfeng |Source: CNTV.CN