Watch Video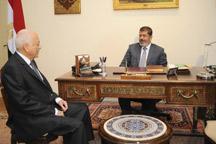 Play Video
Egypt's military leaders have called an emergency meeting, to discuss President Mohammed Morsi's order for the country's dissolved parliament to reconvene.
Morsi reportedly didn't consult the military before announcing the order. The meeting was called by the president of the Supreme Council of Egypt's armed forces.
The Islamist-dominated parliament was dissolved by the military last month, following a ruling by Egypt's Supreme Constitutional Court over alleged election irregularities.
The ruling caused political uncertainty, coming just two days before Morsi was elected president. Morsi, a member of the Islamist Muslim Brotherhood, said parliament should reconvene until a new one is elected.
He's calling for new parliamentary elections to be held within 60 days of the approval of a new constitution. The order has the potential to put Morsi at odds with Egypt's powerful military.
Editor:Zhang Jianfeng |Source: CNTV.CN