Watch Video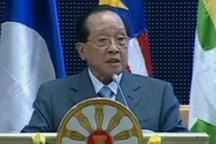 Play Video
The meeting is being chaired by Cambodia. The meeting is expected to focus on territorial disputes, a regional nuclear free zone, as well as human rights issues. The five-day meeting is expected to be dominated by territorial disputes in the South China Sea.
Human rights leaders have expressed concern over the draft ahead of the meeting. Human Rights Watch said in a statement that ASEAN foreign ministers must make a "public commitment to ensure that the forthcoming ASEAN Human Rights Declaration will fully comply with international human rights standards".
Senior officials from China and south-east Asian countries have met in Phnom Penh on Sunday. During the talks, Chinese Vice Foreign Minister Fu Ying and ASEAN officials underlined their commitments to continued implementation of a declaration regarding the South China Sea reached in 2002. They agreed to carry out "the Declaration on the Conduct of Parties in South China Sea" in a comprehensive and effective manner, together with cooperation projects to uphold peace and stability. Chinese and ASEAN officials also held informal discussions on how to jointly formulate a code of conduct in the South China Sea.
The 10-member Association of Southeast Asian Nations was founded in 1967 by Indonesia, Singapore, Malaysia, the Philippines and Thailand as a trade bloc which later evolved into a political, cultural, and economic club.
Brunei, Vietnam, Laos, Myanmar and Cambodia joined ASEAN between 1984 and 1999.
The Asia Regional Forum includes Australia, Canada, China, India, Japan, New Zealand, DPRK, Pakistan, South Korea and the USA.

Editor:Zhang Dan |Source: CNTV.CN