Watch Video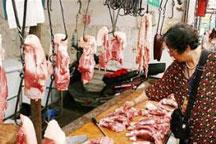 Play Video
China has released its latest inflation figures for June, showing a sharp fall in the rate at which prices are rising. So what does this mean for the cost of daily necessities?
This is the largest market in the northern part of Chengdu, the capital city of Sichuan Province in south west China. Some 10-thousand residents buy their daily necessities here.
Luo Yinchang has been selling pork in the market for more than a decade. However, he's been forced to "rest" for a few months.
Luo Yinchang, pork seller, said, "I just picked up my business after staying at home for several months. The price of pork was too high to earn much profit."
Luo is not the only one who's suffered. The market used to have more than 40 pork sellers. But, a 60-percent increase in price made half of them quit. Now, just as Luo, many of them are returning to their business as the price falls back to normal. And that's benefiting customers as well.
A Chengdu resident said, "I can now afford to buy more pork."
People are happy as the government has taken measures to curb inflation.
Another Chengdu resident said, "The price of many necessities is now back to normal, and we are pleased with that."
The average price for pork is now around 24 yuan per kilogram, 30-percent drop compared with the same period last year.
Editor:Bai Yang |Source: CNTV.CN