Watch Video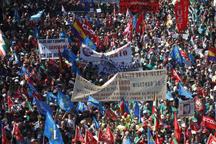 Play Video
Civil servants and mineworkers have hit the streets of recession-plagued Spain with the protests turning violent. It comes after the government unveiled new austerity measures designed to slash 65 billion euros from the public deficit by 2014.
In Madrid, protesters gathered outside the Treasury and Public Administration Ministry, where a meeting between unions and the government was scheduled to be held. Demonstrators managed to push their way through the front doors, but police prevented them from entering the room where the discussions were taking place.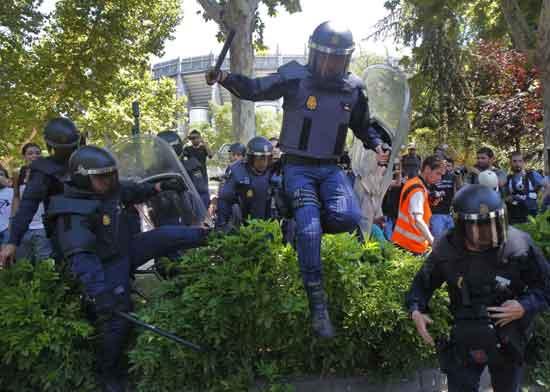 Police riots run after the demonstrators during the coal miners's march to the Minister of
Industry building in Madrid, Wednesday, July 11, 2012.
Earlier, Prime Minister Mariano Rajoy yielded to EU pressure, looking to avoid a full state bailout. He announced a 3-point VAT hike on goods and services as well as cuts in unemployment benefits and civil service pay.
Analysts say the savings plan tears up several of Rajoy's campaign promises, some believe the measures could exacerbate Spain's recession.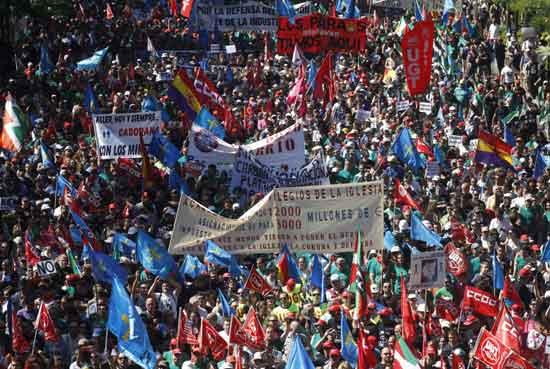 Miners and supporters march through the centre of Madrid, in protest against government
austerity measures, July 11, 2012.
Editor:Zhang Rui |Source: CNTV.CN