Watch Video
Play Video
Egypt's new president, Mohamed Morsi, is in Saudi Arabia. It's the first foreign visit the Muslim Brotherhood leader has made since taking office.
Mohamed Morsi, Egyptian President, "This is my first head of state visit outside of Egypt. Saudi Arabia and Egypt are strongly united by common interests and maintaining close ties is in the interests of regional stability."
In choosing Saudi Arabia as his first foreign destination, Egyptian President Morsi is signaling that he wants to maintain the long-standing regional alliance. Morsi has met with Saudi King Abdullah, and Egypt's relations with Iran have dominated talks.
Ties between Cairo and Tehran were severed in 1980 after Iran's Islamic Revolution and Egypt's recognition of Israel. Other topics under discussion will include Egypt-Israel relations and the ongoing unrest in Syria. Morsi is due to make a short pilgrimage to Mecca, Islam's holiest site, before returning to Cairo.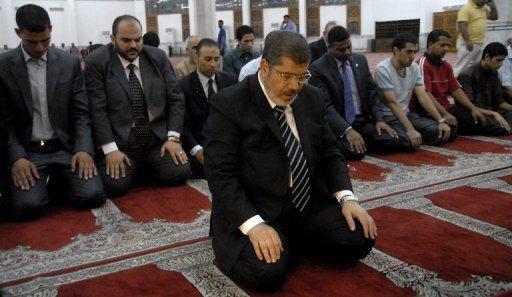 Mohamed Morsi prays for Saudi's late Crown Prince Nayef bin Abdul Azizin at a
mosque in Cairo on June 18. Morsi will head to Saudi Arabia on Wednesday on his
first foreign visit as Egypt's head of state, the official MENA news agency says.
Related stories
Editor:Wang Chuhan |Source: CNTV.CN