Watch Video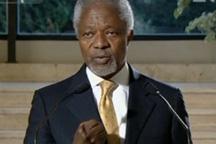 Play Video
UN and Arab League Envoy for Syria, Kofi Annan, has reiterated that his six point plan failed to end the violence in Syria.
Annan has been urging all governments to work together to bring the Syrian government and opposition groups onto the negotiation table. His speech came as the UN Security Council was discussing the next steps to end the violence in Syria as soon as possible.
Kofi Annan, UN and Arab League Envoy for Syria, said, "The operating vehicle, tool, is the six-point plan, which is endorsed by the Security Council in resolutions 2042 and 2043. That frames everything. Within that framework, the discussion we had was to take action at those locations where one has such horrific violence that you can't get in humanitarian assistance, people who are trapped couldn't get out and work out ceasefire arrangements at these localities with possibly the help of UNSMIS (United Nations Supervision Mission in Syria). This does not free anybody from the broader obligation of the ceasefire as indicated in the plan."
Editor:Zhang Dan |Source: CNTV.CN