Watch Video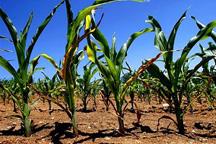 Play Video
The recent heat wave and drought conditions have put farmers across America's Midwest on alert. The extreme weather could have widespread effects on food prices around the world.
A withering sun has beaten down on most of the American Midwest with little rain over the past few weeks - conditions that can make life stressful for farmers like Bob Bowman.
Bob Bowman, Iowa corn grower, said, "Last year we had a very good year and I produced a little over 200 bushels per acre of corn on average. This year with the dryness, we're expecting something less than that."
The growing season started off with the largest corn plantings in more than 70 years, but weather has caused government forecasters to drastically slash their yield outlooks. Prices of corn futures have soared.
Iowa is the largest corn-growing state in the largest corn-producing country. The world gets an estimated 10 percent of its corn right here from the state of Iowa. So price fluctuations here and in the rest of the "corn belt" will ripple throughout the global food supply.
Chad Hart, agricultural economist of Iowa State University, said, "The corn we produce here in the U.S., the vast majority, is yellow corn, that's usually used as livestock feed, used to feed the cattle, the hogs, the chickens, the turkeys, even some fish are fed corn. As you drive corn prices up you're driving feed costs up for the livestock, which ends up driving meat prices, that ends up affecting consumers worldwide."
The lower corn yields are for the so-called the "marketing year"-a 12-month period, that starts at the beginning of a new harvest, in this case, September. And the bad harvest will impact trade. The USDA forecasts China will reduce its U.S. corn imports from 5 million tons to 3 million tons in the "marketing year". The dryness in the U.S. comes right when corn plants need water most.
Chad Hart, agricultural economist of Iowa State University, said, "This is probably most crucial stage for corn plant which is the pollination stage. The corn plant is very sensitive to weather conditions at the time of pollination, and it's especially sensitive to hot and dry conditions."
The last time a major drought hit U.S. agriculture was in 1988, when corn prices rose by 50 percent. There's still time left for things to turn around this season though for farmers here the rains can't come soon enough.
Editor:Zhang Dan |Source: CNTV.CN