Watch Video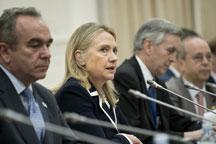 Play Video
Chinese Foreign Minister, Yang Jiechi, and his US counterpart, Hillary Clinton have said the two countries will co-operate on Asian issues.
They met on Thursday on the sidelines of the Association of Southeast Asian Nations' annual conference. Sitting across from each other at a long table, Yang Jiechi spoke of building an even closer US-Chinese relationship.
And Clinton stressed the different ways Washington and Beijing are cooperating. Mrs. Clinton says the US will not "take sides" in regional disputes in Asia. Mr. Yang told reporters China is ready to "enhance" dialogue with the US.
Yang Jiechi, Chinese Foreign Minister, said, "China is ready to work with the United States to continue to implement the agreement between the two presidents, to maintain and enhance our dialogue, to coordinate and cooperate in the Asia Pacific and globally, to continue to expand our common ground, respect each other properly, and to be humble in order to process sensitive issues."
Hillary Rodham Clinton, US Secretary of State, said, "I want to stress the importance of US-China cooperation in regional institutions such as the East Asia Summit and in particular the ASEAN Regional Forum. I'm delighted that we're going to be issuing a joint media note that will give specifics about the cooperative projects in the Asia Pacific that we are engaging in and it is an important signal that the United States and China, not only can, but will work together in Asia."

Related stories
Editor:Bai Yang |Source: CNTV.CN