Watch Video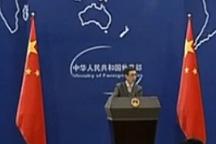 Play Video
China has also strongly condemned the massacre in Syria's Hama region. Foreign Ministry spokesman Liu Weimin made the remarks at a regular press briefing.
Liu Weimin, spokesman of Chinese Foreign Ministry, said, "China has always strongly denounced actions that harm innocent civilians. We hope the concerned Syrian parties should take concrete measures and fulfill their commitment to cease violence as soon as possible."
Liu also said China is "seriously studying" a draft UN resolution on Syria. The current draft resolution was circulated by Britain and backed by the US, France, and Germany. It would make compliance with a transition plan drafted by international envoy Kofi Annan enforceable under Chapter 7 of the UN Charter.
Although parties concerned still have differences regarding the Syrian crisis, Liu called on them to seek common ground through patient consultations, in order to maintain solidarity in the Security Council and advance the political settlement of the issue.
Liu also said China supports the extension of the UN Supervision Mission in Syria which is due to run out on July 20th when its 90-day mandate expires. However he stressed that the mission must support Annan's peace plan and a political settlement of the Syrian issue.
Editor:Zhang Dan |Source: CNTV.CN