Watch Video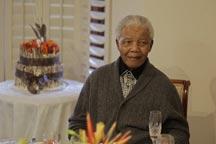 Play Video
Wednesday marks the 94th birthday of the great South African statesman, Nelson Mandela. Born in Mveso, in South Africa's Eastern Cape Province on July 18th, 1918, he's affectionately known by his clan name, Madiba.
The elderly former South African president spent his special day with friends, comrades and family, in his home village of Qunu, where he's said to be in good health.
Around the rest of South Africa and other parts of the world people have been celebrating Madiba's legendary legacy.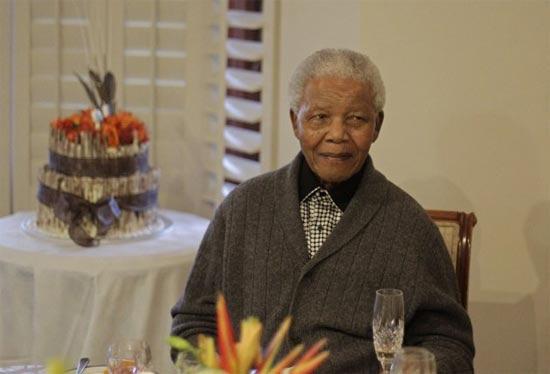 Former South African President Nelson Mandela as he celebrates his birthday with
family in Qunu, South Africa, Wednesday, July 18, 2012. Across the country, and
even abroad, people are doing good deeds to honor the country's most famous
statesman on his 94th birthday Wednesday.
It's an icy-cold winter morning in Pimville, and there's excitement in the air because it's Madiba's birthday. At the Batsogile Primary School the kids are warming up, getting ready to sing Happy Birthday for their hero.
We love you Tata.
At exactly 8 o'clock, twelve and a half million South African school children around the country and personalities on radio and television sang Happy Birthday to the eldery statesman.
In a speech, South Africa's Deputy-Minister of Basic Education encouraged the youngsters to learn from the life and leadership of Madiba, and told them that success comes from within.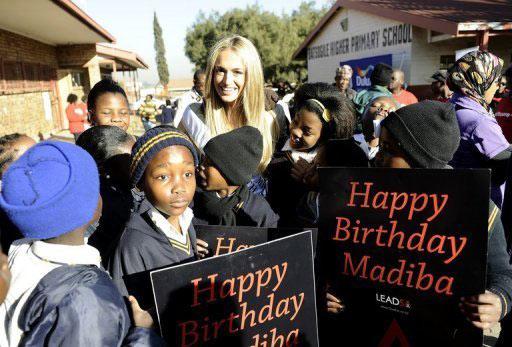 Miss South Africa 2011 Melinda Bam poses with schoolchildren preparing to sing
happy birthday to former South African President Nelson Mandela, on his 94th
birthday. The nation's 12 million schoolchildren began their day with a special
birthday song, ringing with the line: "We love you father".
He says, "What Nelson Mandela has taught us, roll up our sleeves and work hard."
Before the children returned to their classes, each was given a brand new pair of shoes. Besides being a day of celebration.
International Nelson Mandela Day has also become a day of action and activism for many around the world. It's a day on which people from all walks of life are prepared to get their hands dirty as a tribute to one of the greatest Sons of the African soil.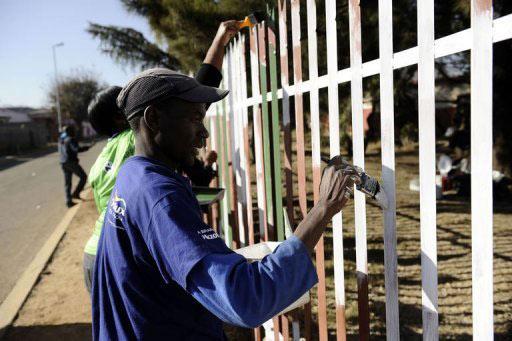 Volunteers paint a fence during the celebrations of former South African
President Nelson Mandela's birthday at Batsogile Primary School in Soweto.
Most people give at least 67 mins of their time to doing good for others. A symbol of the 67-years Nelson Mandela devoted to the struggle for freedom.
Whether it's planting a tree, giving a schoolkid a new pair of shoes, or painting an old rusty fence, everyone here is determined to do their bit for Madiba, in honour of his liftetime of sacrifice and struggle.
Many here say they hope to live up to Madiba's vision of a better life for all. And will do their best to ensure his legacy is passed on to the next generation.
Editor:Zhang Jianfeng |Source: CNTV.CN