Watch Video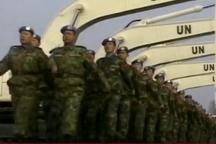 Play Video
Peace and stability are the common aspirations of all people. And that's one major reason that China and many African nations have strengthened cooperation on security. China has also played a major role in several UN peacekeeping missions on the continent. Let's take a look at what's been done.
Years of conflict and unrest, Africa has suffered a lot.
To help maintain peace, and rebuild war-torn countries, China has actively participated in UN peacekeeping operations in Africa.
In 2003, China sent its first contingent of 175 soldiers to the Democratic Republic of the Congo, under a UN framework. In the same year, China contributed peacekeepers to Liberia. In 2006, Chinese peacekeepers began to participate in the UN's mission in Sudan. And in 2007, Chinese soldiers were the first peacekeeping troops to be deployed to the AU-UN hybrid operation area in Darfur.
Overall, China has contributed tens of thousands of troops, military experts and civilian police to UN peacekeeping missions in Africa.
There are currently over 15 hundred Chinese peacekeepers working in six UN peacekeeping operations in Africa. They include the Democratic Republic of Congo, Liberia, South Sudan, Sudan, Western Sahara and Cote d'Ivoire. They've been engaged in military engineering, transportation and medical services.
In addition, the Chinese government has provided financial assistance and training towards AU peacekeeping operations.
China has also promised to continue its participation in de-mining missions in Africa.
Sino-African security cooperation is not limited to UN-sanctioned peacekeeping. The escort mission is a good example of anti-terrorism cooperation. China's navy has been carrying out escort missions against pirates in the waters of the Gulf of Aden off Somalia since 2009. By the end of March this year, China had sent 28 warships to the regions. They've helped to escort over 4,500 vessels, as well as rescuing 48 ships under attack by pirates.
And there's even been cooperation between the police forces of China and African countries, in the fight against weapon smuggling, drug trafficking and cross-border crimes.
Promoting China-Africa security cooperation is now an indispensable choice for both sides. It's become an important part of strategic cooperation, and will lay a solid foundation for the development of mutual trust.
Editor:Zhang Rui |Source: CNTV.CN