Watch Video
Play Video
The long-delayed hearing to read out the charges against the men accused of murdering two Chinese students of University of Southern California Engineering has finally taken place.
After two months and two postponements the arraignment hearing for the two men accused of murdering two USC Chinese graduate students, Ming Qu and Ying Wu, finally happened Wednesday. And dozens of international Chinese media as well as scores of students and friends of the victims were in attendance.
20-year-old Bryan Barnes and 19-year-old Javier Bolden both entered "not guilty" pleas before a packed courtroom at the Los Angeles Superior Courthouse Wednesday.
"I think the system is very ineffective."
"It's too long."
"Yeah, the process is too long, it's too exhausting."
This can be a frustrating process for those unaccustomed to the American judicial system-a system fraught with procedural delays that can postpone the start of a trial for months, sometimes even years.
Howard Wang, President of USC SW Students & Scholars Association, said, "Personally I think it's too long for us, because I think the longer the fewer people will know about it."
But victim Julia Liu, close friend of victim Ming Qu, is on a one-woman mission to make sure that never happens.
Julia Liu, Qu Ming's friend, said, "We're gonna do a lot of work to make society remember those 2 kids and those tragedy."
The Los Angeles police say last April, 23-year-old USC engineering students Ming Qu and Ying Wu died from gunshot wounds they suffered during a botched robbery attempt. The police say evidence from a previous, unrelated shooting matched material from the USC crime scene, lead them to the suspects.
Authorities believe both suspects are linked to a string of crimes. The young men can be found on Facebook flashing, what appears to be, gang hand signs. But police say they're not affiliated with a violent street gang, rather a group of hard-partying kids who call themselves: "No Respect".
The judge paused the proceedings to reprimand Barnes and Bolden for engaging in lighthearted banter during a serious proceeding.
Julia Liu, Qu Ming's friend, said, "I feel sad on them. It's going to be sad for four families."
She said she feel sad because if the prosecutor decided to seek death penalty, the case would end with loss of four families.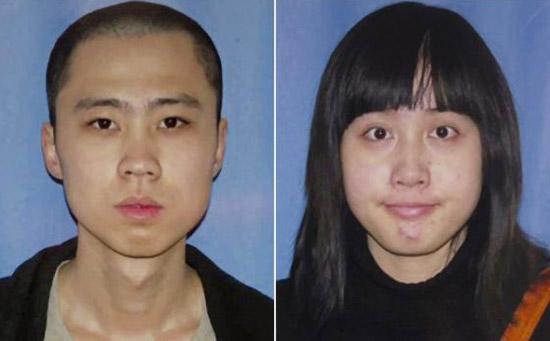 This combination photo made from undated file photos released by the Los Angeles Police
Department on April 13 shows shooting victims Ming Qu, left, and Ying Wu. The USC
Chinese graduate students were shot to death near the campus.
Photo of suspects from Facebook
Related stories
Editor:Wang Chuhan |Source: CNTV.CN