Watch Video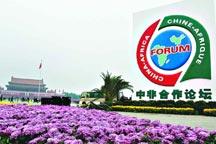 Play Video
China says that it will continue to increase assistance to Africa to bring the benefits of development to the African people. This aid comes with no political strings attached. However, some in the Western media have expressed concerns over China's growing presence in Africa. CCTV reporter Han Bin interviews ministers participating at the forum on China African Cooperation, about the real opportunities Chinese engagement offers for African development.
Helping others help themselves.
China's growing engagement in Africa.
It has built friendship hospitals in Zambia,
It provided food aid to Kenya, and helped numerous infrastructure projects in Tanzania.
What does Chinese investment bring to Africa?
John Rwangombwa, Rwandan Finance Minister, said, "it brings development. Our country is development first. We've already got the investment from China. "
Olga Vololonirina Ramalason, Madagascar Trade Minister, said, "We really need support and financial help and technical assistance in general. "
Victoire Ndikumana, Burundi Trade Minister, said, "The support of China is a innovative one, that no tied conditions it's a friendly support and we do appreciate."
In sharp contrast with developed countries, that have been experiencing economic recession, trade numbers between China and Africa have been growing and growing.
China provides aid to almost every single country in the continent. It argues that natural resources are not the primary motivating factor for China's aid. And China's imports of Africa's mineral resources are far behind some western countries, like the United States.
Chinese President Hu said, "China will provide 20 billion dollars of credit in loan to African countries to assist them in developing infrastructure, agriculture, manufacturing, and small and medium-size enterprises."
Bob Davies, South African Trade Minister, said, "What we now need to do is to put the relationship on a new footing, because the African continent needs to industrialized, need to integrate, and need to expand its infrastructure. I think that's the message coming out of Africa in the last few years, and I'm pleased to see it's been picked up by President Hu Jintao in his speech this mooring. "
Han Bin said, "China's aid to Africa began in the 1950s. And since the 1980s, the one-way loans have switched to cooperation that benefits both partners. As the world's second largest economy, China is expected to increase aid to Africa, with more nuanced and dynamic relations to come. "
Related stories
Editor:Zhang Jingya |Source: CNTV.CN