Watch Video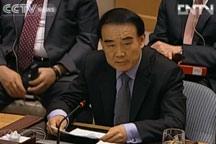 Play Video
Russia and China have vetoed a Western-proposed UN Security Council draft resolution on Syria.
The draft allows the Security Council to authorize actions ranging from diplomatic to economic sanctions, if the Syrian government fails to pull out troops and heavy weapons from populated areas within ten days.
It was the third time Russia and China have vetoed UN Security Council draft resolutions on Syria.
This draft resolution was proposed by Britain and jointly presented by France, the US, Germany and Portugal.
It received 11 votes in favor, two against and two abstentions.
It demands all parties in Syria immediately cease violence, thereby creating an atmosphere conducive to a sustained cessation of violence and a Syria-led political transition.
It indicated that if the Syrian authorities do not stop using heavy weapons and withdraw troops from towns and cities within 10 days, the Security Council would employ economic and diplomatic sanctions.
Russia remains opposed to any threat of sanctions against Syria in fear of unilateral sanctions sending the country into a civil war.
Vitaly Churkin, Russian Ambassador to UN, says, "The draft which was just voted on was biased. The threat of sanctions was levelled exclusively at the government of Syria, this one has countered to the spirit of the Geneva document on Syria, and does not reflect the realities in the country today."
China's Permanent Representative to the UN, has explained the reasons why China also vetoed.
Li Baodong, Chinese Ambassador to UN, says, "The draft resolution is seriously problematic with uneven content that is intended to put pressure on only one party. History goes to prove that such practice will not help to resolve the Syrian issue. It will not only further aggravate the turmoil but also result in spill over problems in other countries in the region, damage regional stability and ultimately impair the interest of the people in Syria and other countries in the region."
The draft resolution also demands the extension of the UN Observer Mission in Syria for a period of 45 days.
Russia put forward a draft resolution to extend the mission for 90 days.
The 15-member council still has time to negotiate another resolution on the fate of the observer mission before its initial 90-day mandate expires at midnight Friday.
Related stories
Editor:Zhang Jianfeng |Source: CNTV.CN