Watch Video
Play Video
Syria is not on track for peace, and violence is escalating. The chief of the UN monitoring group, Major General Robert Mood, said this on Thursday, as clashes rocked Damascus, a day after three top Syrian security officials died in a bombing.
Mood said, "It pains me to say, however, that we are not on the track for peace in Syria, and the escalations we have witnessed in Damascus over the past few days is a testimony to that. I expressed my condemnation of the attack yesterday to the Syrian government, and I call on the parties to end the bloodshed and violence in all its forms, recommitting to a peaceful solution to this conflict."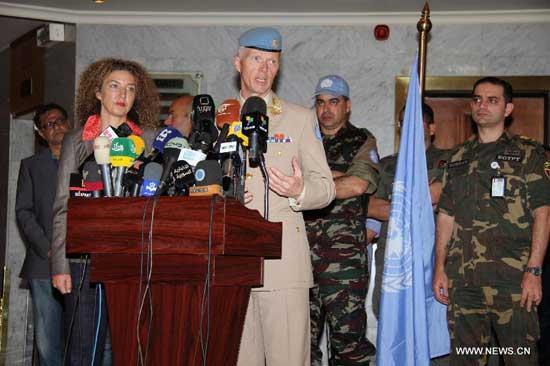 Major-General Robert Mood (2nd L), head of United Nations Supervision Mission in Syria
(UNSMIS), speaks during a press conference in Damascus, Syria, on July 19, 2012. Robert Mood
said Thursday that the situation in Syria is not on track for peace given the escalation of
violence over the past days before leaving for Geneva. (Xinhua/Hazim)
Clashes erupted on Thursday near Syrian government headquarters in Damascus. Activists and residents said government forces have deployed armoured vehicles and increased roadblocks across the city. Activists say at least one person has been killed in the fighting near the Council of Ministers and the Damascus University campus.
Fighting has been focused in the southern and north-eastern suburbs, as well as the central areas of Mezze and Kafar Souseh where several security sites are located. Fighting and shelling were also reported in the town of Talbisah, near Homs.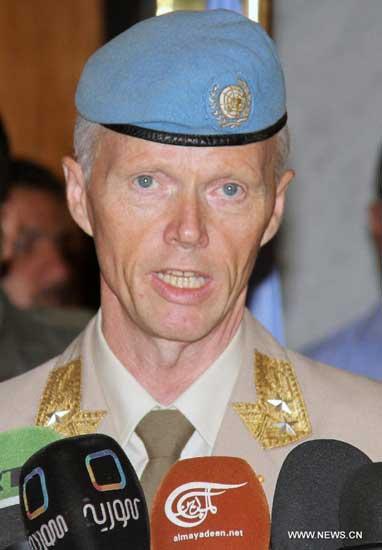 Major-General Robert Mood (2nd L), head of United Nations Supervision
Mission in Syria (UNSMIS), speaks during a press conference in Damascus,
Syria, on July 19, 2012. Robert Mood said Thursday that the situation
in Syria is not on track for peace given the escalation of violence
over the past days before leaving for Geneva. (Xinhua/Hazim)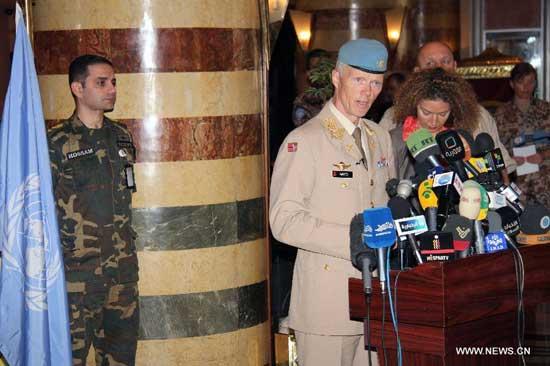 Major-General Robert Mood (2nd L), head of United Nations Supervision Mission in Syria
(UNSMIS), speaks during a press conference in Damascus, Syria, on July 19, 2012. Robert Mood
said Thursday that the situation in Syria is not on track for peace given the escalation of
violence over the past days before leaving for Geneva. (Xinhua/Hazim)
Editor:Zhang Rui |Source: CNTV.CN