Watch Video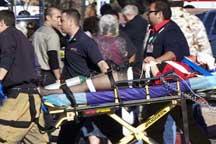 Play Video
Let's take some time to go over some of the deadliest mass shootings around world.
July 22, 2011: At least 80 people were killed at a summer camp on the Norwegian island of Utoya. The man who was arrested for the shooting was also suspected in a blast earlier the same day in downtown Oslo that killed seven.
March 10, 2009: Michael McLendon, 28, killed 10 people - including his mother, four other relatives, and the wife and child of a local sheriff's deputy - across two rural Alabama counties in the United States. He then killed himself.
Sept. 23, 2008: Matti Saari, 22, walks into a vocational college in Kauhajoki, Finland, and opens fire, killing 10 people and burning their bodies with firebombs before shooting himself in the head.
April 16, 2007: Seung-Hui Cho, 23, kills 32 people and himself on Virginia Tech campus in the US.
April 20, 1999: Students Eric Harris, 18, and Dylan Klebold, 17, open fire at Columbine High School in Colorado, the US, killing 12 classmates and a teacher and wounding 26 others before killing themselves in the school's library.
Related stories
Editor:Zhang Jianfeng |Source: CNTV.CN