Watch Video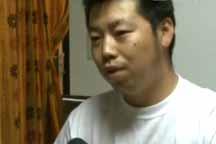 Play Video
We sat down with a neighbour of James Holmes, the suspect of the movie theater shooting, as he recalled a chilling encounter with him on the day of the incident.
A chilling moment for- Zhang Yi, a Chinese visiting scholar to University of Colorado Hospital. It was beyond his wildest imagination that his neighbour James Holmes could have murdered and injured 70 people in a shooting rampage at the premiere of Batman movie on Friday.
Zhang said that Holmes rode his bicycle to school everyday, and his son often gave him a hand getting his bicycle out of the hallway door.
But when Zhang and his son saw Holmes Friday afternoon, they said he acted strangely cold, and didn't acknowledge their greeting. Holmes was wearing a sunbonnet and started loading handbags into his car, which were found at the site later. Zhang noticed that the trunk of Holmes' car was filled with bags.
Zhang Yi, visiting scholar, said, "It was a soft handbag, very long, with a pole-like thing stretching the bag. I thought it might be a fishing pole. I couldn't have imagined that it was a gun."
At around 2:00 am, Zhang was awoken by noise and found a number of armed police officers downstairs. They evacuated all residents in the apartment complex. People began to notice that the only person that absent was Holmes.
Earlier in the night, a neighbour tried to open James Holmes' apartment, thinking he was home, as loud music was playing. But eventually, she gave up. Police later found out that the music was automatically set to start at the same time the gunman began his shooting spree.
Before he left, he set up several explosive devices in the room, which police predict were powerful enough to destroy the entire complex if detonated.
Zhang Yi, visiting scholar, said, "The neighbour downstairs called police and complained about the loud music in his room, but officers said they were busying dealing with a shooting incident, and told her to deal with it by herself. So she went upstairs and knocked the door, and found that it was unlocked. Then she just cracked open the door. Come to think of it, if she had opened it all the way, we would have been finished."
The University of Colorado Hospital is treating 23 people injured in the incident, the remaining are at other nearby hospitals. Zhang also said that police informed he and his family they could move back home around Tuesday.
Editor:Zhang Dan |Source: CNTV.CN