Watch Video
Play Video
In Syria, UN's Under-Secretary-General for Peacekeeping Operations, has arrived in Damascus for a three day mission. The same day, Syrian troops backed by helicopter gunships have fought rebels trying to seize central Aleppo and pursued a campaign to regain full control of the capital Damascus.
Fighting intensified in Aleppo, Syria's second largest city that had long seemed immune to the 16-month-old upheaval.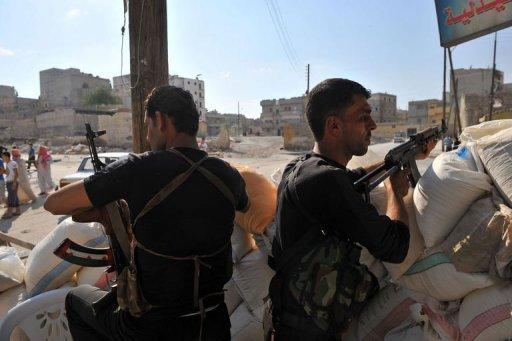 Syrian rebels man a checkpoint in the northern city of Aleppo. A commercial hub and
home to 2.5 million people, Syria's second city Aleppo has become a new front in the
country's 16-month uprising, after being largely excluded from the violence. (AFP
Photo/Bulent Kilic)
After a week of battles between President Bashar al-Assad's forces and his opponents in Damascus, video uploaded to a social website claims to show helicopter gunships firing in the skies above the capital on Tuesday.
Troops were trying to snuff out rebel resistance in several areas, including Barzeh, near the city center. Tanks prowled the streets of Midan, a neighbourhood recaptured by the army from rebels on Friday.
Syrian forces have been shelling and raiding parts of the capital to dislodge rebels who launched bold attacks after a bomb attack killed four of Assad's top security men, including his brother-in-law Assef Shawkat, last week.
Herve Ladsous, the UN's Under-Secretary-General for Peacekeeping Operations, arrived in Damascus on Tuesday to assess the escalating violence in Syria.
The visit comes after the UN Security Council unanimously approved a resolution on Friday renewing the 300-strong UN observer force for 30 days.
The resolution was a lifeline for the unarmed observers who were sent to Syria three months ago to monitor a cease-fire that never happened.
Herve Ladsous, UN Under-Secretary-General for Peacekeeping Operations, said, "This trip is intended in the framework of the resolution the Security Council adopted last week, as you know resolution 2059, which renewed the mandate of UNSMIS for, and I quote from the resolution, a final period of thirty days unless there are significant developments regarding the level of violence and the use of heavy weapons."
Activists estimate that 19, 000 people have died in the escalating violence since March 2011.
Related stories
Editor:Zhang Dan |Source: CNTV.CN