Watch Video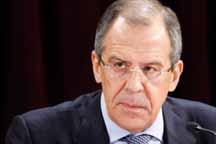 Play Video
Russian Foreign Minister Sergey Lavrov has accused some countries of fuelling the violence in Syria by supporting the opposition and attempting to oust the country's leader. He said that while the fighting continues, there could be no talk of humanitarian corridors and security zones in the beleaguered country.
Lavrov made his latest comments in Moscow after meeting his Serbian counterpart Vuk Jeremic.
His comment was in response to an Arab League plan to seek a new UN resolution on Syria - which would likely include a demand to allow access for humanitarian workers to the entire country.
Lavrov said the Geneva declaration has constituted a solid base to support the efforts of UN-Arab League special envoy Kofi Annan and the UN observers. The declaration was agreed by world powers on a roadmap to pave the way for a Syrian-led transition.
Lavrov also had harsh words for others' support for the Syrian opposition.
Sergey Lavrov said, "We are proposing things that would allow an immediate end to the violence. But the other party says, "No. Either the regime capitulates, or we continue to support the armed struggle of the opposition through various - including material - means. They justify the terrorists' attacks. While such support continues, what sort of humanitarian actions can we discuss?"
Earlier this month, Moscow also opposed the introduction of a no-fly zone. It called that step counter-productive and one-sided. Lavrov expressed hope that the observer mission's mandate could be extended again after mid-August.
He added that Russia was willing to contribute 30 observers to that effort. As of now, that mission is set to expire in about 3 weeks. Last Friday, the UN Security Council unanimously voted to extend the observer mission for 30 days. Its initial 90-day mandate expired on July 20.
Editor:Zhang Dan |Source: CCTV.com