Watch Video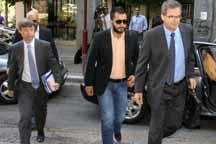 Play Video
Is this the last chance? Inspectors overseeing Greece's tortured bailout programme returned to Athens on Thursday, as pressure mounts on Greece's new coalition government to swiftly slash spending.
Trying to convince increasingly skeptical international lenders, Greece named a new privatization chief on Wednesday, and said it would sell a loss-making bank that has been draining state coffers.
Poverty and recession continue to worsen and the threat of a potential Greek eurozone exit is still hanging over the continent.
For tax inspector Yannis Hatzisalatas, the potential of additional austerity measures is frightening. The Finance Ministry employee of 22 years complains of having his salary slashed by half since the country first sought a bailout.
Yannis Hatzisalatas, tax inspector in Greece, said, "Last year my (income) tax return was 1,500 euros. This year I have lost 50 percent of my earnings and I must pay 2,500 (euros) in taxes.
Ironically, the government service which employs him and which is charged with collecting income for the state, has also been subjected to budget and staff cuts.
The new three-party coalition government is scrambling to identify 14 billion US Dollars in required new spending cuts for 2013-14, combined with a 3.6 billion US Dollar revenue boost.
Plans for the latter include privatisations and mergers.
Finance Minister Yannis Stournaras will meet inspectors from the European Union, the International Monetary Fund and the European Central Bank on Thursday, the so-called troika is expected to issue its report on the course of reforms in several weeks' time.
Ilias Iliopoulos, general secretary of Adedy Civil Servant Union, said, "They're coming back now and with the demand of an agreement which I consider to be completely unjustified, appalling, which was constructed by those who are weak-minded or suspicious to impose another 11.5 billion (euros worth of measures) plus another three that they say they need for the national budget. Where are they going to take it from? From the public which doesn't have enough for its basic needs?"
Greeks had been promised some relief from a punishing recession after the country won major debt restructuring and rescue loan deals this year following another round of severe salary and benefit cuts.
After years of profligate government overspending, Greece is being kept afloat by emergency loans from its European partners and the IMF.
But the two bailout packages worth some 290 billion US Dollars came with many strings attached, not least a big cut in government spending.
According to a senior finance ministry official, Greece's government has hammered out a 11.7 billion euro savings plan for 2013 and 2014 which was a key demand of the troika. It will present the plan later on Thursday to the leaders of its ruling coalition for final approval.
Citigroup pegs Greek euro exit at 90%
America's Citibank says the odds of Greece leaving the eurozone have risen to 90 percent. The news comes as Greek politicians push for a revised bailout settlement, including no new cuts for this year. Full story >>
Greece, inspectors discuss bailout
Greece has begun a new round of talks with international debt inspectors from the EU, IMF and European Central Bank. Full story >>
Editor:Zhang Dan |Source: CCTV.com