Watch Video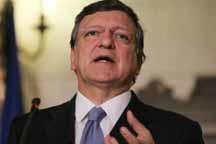 Play Video
European Commission President Jose Manuel Barroso has urged Greece's new government to deliver on promises of cost-cutting reforms.
The country is depending on the reforms for continued financial support from the Eurozone. Barroso made the comments at a joint news conference with Greek Prime Minister Antonis Samaras after the two met on Thursday.
Jose Manuel Barroso said, "The main issue is implementation to deliver results. To maintain the trust of European and international partners, the delays must end. Words are not enough. Actions are much more important. Following my meeting with Prime Minister Samaras, I'm reassured that this delivery will happen. In return I have been unequivocal that the European Commission will stand by Greece."
Citigroup pegs Greek euro exit at 90%
America's Citibank says the odds of Greece leaving the eurozone have risen to 90 percent. The news comes as Greek politicians push for a revised bailout settlement, including no new cuts for this year. Full story >>
Greece, inspectors discuss bailout
Greece has begun a new round of talks with international debt inspectors from the EU, IMF and European Central Bank. Full story >>
Troika inspectors back on make-or-break Greek visit
Is this the last chance? Inspectors overseeing Greece's tortured bailout programme returned to Athens on Thursday, as pressure mounts on Greece's new coalition government to swiftly slash spending. Full story >>

Editor:Zhang Dan |Source: CCTV.com