Watch Video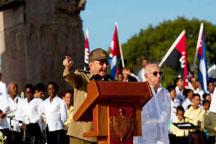 Play Video
Cuban leader Raul Castro says he's willing to mend fences with the United States and sit down to discuss anything, as long as it's a conversation between equals. The two sides have not had diplomatic relations for more than 50 years. The offer was made during a major political rally to mark the July 26th "holiday" in Cuba.
July 26th is one of the most important dates in Cuba's political calendar, the anniversary of the first battle of Fidel Castro's Revolution.
His brother President Raul Castro has used this year's rally to call on the United States to sit down at the negotiating table to discuss their differences.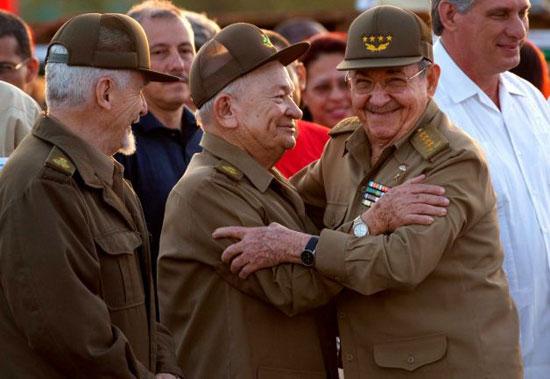 Cuba's President Raul Castro, right, embraces Commanders of the Revolution Guillermo Garcia
Frias, center, and Ramiro Valdez, left, at an event celebrating Revolution Day in
Guantanamo, Cuba, Thursday, July 26, 2012. Cuba marks the 59th anniversary of the July 26,
1953 rebel attack led by Fidel and Raul Castro on the Moncada military barracks. The attack
is considered the beginning of the revolution that culminated with dictator Fulgencio
Batista's ouster. Photo: Ramon Espinosa / AP
Raul Castro, Cuban President, said, "We're willing to discuss everything about Cuba but with equal condition. Because we are nobody's colony, nobody's puppit. We want to discuss the same issues about the United States."
This year's rally was held in the eastern province of Guantanamo, home to the US naval base of the same name.
Even without the controversial military prison there, the American presence in Guantanamo has long been sore point here. Cuba claims it was ceded under pressure more than a century ago and the Vice President used this year's rally to call it return.
Jose Ramon Machado, Vice President, said, "Never, under any circumstance, will we stop demanding the recuperation of this piece of land. We will continue to denounce the flagrant violation of international law until Cuba exercises sovereignty over this part of our territory."
The economy also featured strongly in this year's speeches. President Castro urged patience saying he would not be rushed into hasty changes, but that the reforms would continue slowly but surely.
Related stories
Editor:Yang Jie |Source: CCTV.com