Watch Video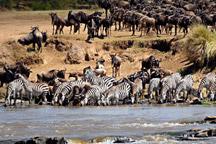 Play Video
In order to capture the magnificent scenes of the wildebeest migration, CCTV report team has been on location for several days. Compared to migrations of previous years, this year's is not only taking place later, but it's also moving more slowly.
Every July, millions of wildebeest migrate from Tanzania to Kenya. After a 2-hour ride, we arrive at the banks of the Shaw River on the boundary between Tanzania and Kenya. By now the wildebeests would normally have already crossed the river. So, why is the migration happening late this year?
According to the local guide, this year's wildebeest migration is taking place at least 3 weeks later than usual. Wildebeest normally cross the river here in around early July, but because of the weed growth on the opposite bank, we may have to wait until the end of July to see them cross the Shaw River.
John, Masai Mara Park Ranger, said, "Last year they were here about mid-July, this year they may cross the Mara River sometime after mid-August."
The Mara River, also known as the "crossing of the heaven", is the most formidable obstacle on the wildebeest's migratory route. We'll be waiting to witness the great crossing of the magnificent wildebeest.
Editor:Wang Chuhan |Source: CCTV.com