Watch Video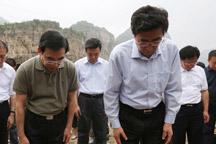 Play Video
Senior Beijing officials say the record rainstorm that hit the capital on July 21st exposed shortfalls in urban planning, infrastructure, and emergency management.
The newly-elected Party Secretary of CPC's Beijing Municipal committee, Guo Jinlong, and acting Mayor, Wang Anshun, have been touring the hardest-hit district of Fangshan in southwest Beijing. And they say lessons will be learnt from the disaster which left 77 people dead.
In this mountainous village, the legacy from the worst flooding in over 60 years is all too obvious, 7 days after the disaster hit. Beijing officials admit the loss of life has prompted them to reflect.
Guo Jinlong, Secretary of CPC Beijing Municipal Committee, said, "This extremely destructive natural disaster has taught us a profound lesson. Confronting a natural disaster of such scale, our planning and construction, as well as our infrastructure, including our emergency response mechanism, has exposed many problems. We are here to mourn the lost lives and see these affected residents. We must reflect deeply and always bear in mind such a lesson. We should continually strengthen and improve our work so that our work can better serve people's basic needs, and we need to work hard to minimize the damage from such disasters. "
The flood water has now receded. Thick layers of debris and mud are being cleared away. And the traffic in and out of Fangshan has been restored. The current priority is rebuilding homes destroyed by the deluge. Authorities are pledging all-out efforts to re-settle the affected people.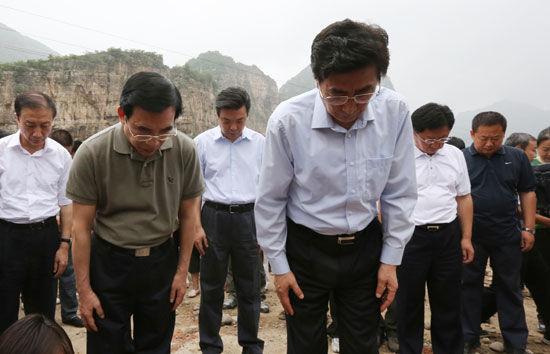 Beijing Party chief Guo Jinlong(3R) and acting mayor Wang Anshun(2L) mourned victims
killed in the July 21 downpour, when inspecting the disaster relief work in Fangshan
District, July 27, 2012. [Photo/Beijing Daily]
Wang Anshun, acting Mayor of Beijing, said, "All affected people will be able to move into mobile homes by August 5th. We are taking full responsibility for improving their living conditions there. As for all those homes suffering different degrees of damage from the disaster, we plan to renovate them ALL within 3 months. For those still living in mountainous areas prone to landslides, we're determined to relocate them to safer areas. "
Emergency authorities have now updated the death toll from the storm to 77.
More rainfall is forecast over the coming days. A host of emergency measures have been put in place throughout the city, to ensure Beijing is well-enough prepared to face even the very worst scenario.
Related stories
Editor:Wang Chuhan |Source: CCTV.com