Watch Video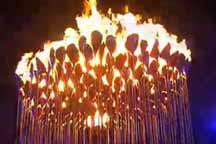 Play Video
It's a shame you can't see the Olympic flame. That was the reaction from visitors not lucky enough to have a ticket into the main stadium. As the intricate cauldron and its copper petals remained out of sight, other park visitors could only see an image of the flame beamed onto big screens.
"It's a bit exclusive, I think it should be for everybody."
"In Beijing, it was at the side. And all the other Olympics, it's always been at the side, so it's a bit unusual to have in the center."
By contrast in Beijing, the flame atop the iconic Bird's Nest stadium was visible across the Olympic precinct. While the blocked view of the London cauldron has caused much controversy, London mayor Boris Johnson defended the design.
He said the cauldron was going to be visible to everybody who watched it on TV. On Sunday, it will replace the massive opening ceremony bell at one end of the stadium - still out of sight, unless you have a ticket.
Editor:Zhang Dan |Source: CCTV.com