Watch Video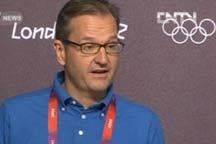 Play Video
The first official doping ban during the London Olympics was handed down on Saturday. Albanian weightlifter Hysen Pulaku tested positive for a banned steroid, stanozolol, and a backup "B" sample confirmed the result. The International Olympic Committee expelled him from the Games.
IOC spokesman Mark Adams said, "It's always a sad day when a cheating athlete is caught. We hope there will be no more but the message is very clear: If you're doping we're going to catch you. There will be 5,000 tests during these games. All the medallists will be tested."
In a hearing on Thursday, the lifter's coach and uncle said they knew nothing about how the drug had come to be present in his body. Before that, two Turkish lifters were also dropped by their federation at the last minute after failing doping tests. The World Anti-Doping Agency said earlier this week that 107 athletes had been caught doping in the six months leading up to the Olympics and kept out of the games.
Related stories
Editor:Zhang Ning |Source: CCTV.com