Watch Video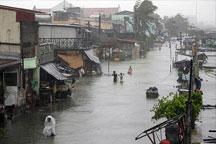 Play Video
Heavy rains brought by tropical storm Saola has triggered flooding in the Philippine capital Manila, forcing hundreds of residents in riverside communities to evacuate. Water levels have reached waist-deep in some alleyways in Marikina city in eastern Manila, where hundreds of residents have been advised to leave their homes.
Families living along the Marikina River sought refuge in a basketball court, as their homes were submerged. So far, evacuations have only been voluntary, but the town chief is preparing for a mass evacuation if flooding worsens. Nearly 1,300 people sought shelter in evacuation centers, and power was down in several areas nationwide.
Children are seen playing in rain water pouring from an overflowing roof gutter in Manila, on
July 20. Two people were killed and six others are missing in the Philippines as floods
inundated parts of Manila and nearby areas while a storm tore through the country's north,
authorities said Saturday.(AFP photo)
The Philippine weather department says tropical storm Saola is gaining strength, and is expected to dump rain across the country, especially in the north. It is moving at a speed of 11km per hour with gusts of up to 135km per hour.
Related stories
Editor:Yang Jie |Source: CCTV.com