Watch Video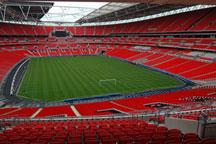 Play Video
On the second day of the London Olympic Games, a host of popular competitions have seen many vacant seats. The low attendance rate is raising questions about what's causing spectators to stay away.
Everything from expensive prices, to unused tickets are being blamed?
During competitions on the 29th, events like diving, swimming, football and basketball, which usually attract large crowds, were noticeably quiet.
Many people suspect that these seats were reserved for VIPs, Olympic sponsors and athletes' family members. But others suggested it was the high prices that was keeping most people away. Tickets for swimming and diving events can cost as much as a hundred pounds.
However a sharp difference can be seen at the front of the big screen in Hyde Park. There, audiences can watch the games for free.
And a light shower still didn't dampen the mood.
Faced with this awkward situation, the London Olympic Committee invited security guards to fill the empty seats. This, however, was criticized by the media.
The committee has decided to investigate the low attendance rate and said it will publicly criticize those who held free tickets but did not attend the games.
It also said more than 2 million tickets had been given to Olympic sponsors, VIPs and athletes' families while over 6 million were sold to the public.
Related stories
Editor:Zhang Hao |Source: CCTV.com