Watch Video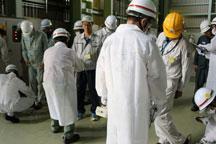 Play Video
The operator of Japan's crippled nuclear power plant has held its first large-scale emergency drill since last year's earthquake and tsunami at its headquarters in Tokyo.
The drill, aimed at improving Tokyo Electric Power's response to a natural disaster, came one month after the utility replaced its president and chairman. TEPCO has repeatedly come under fire for its handling of the nuclear crisis at Fukushima. A report by a government-appointed panel faulted TEPCO and the government for doing too little to protect the Fukushima Dai-ichi plant from the earthquake and tsunami that hit in March 2011.
They were also faulted for mishandling the response when the damage set off three reactor meltdowns in the world's worst nuclear accident since Chernobyl. TEPCO's new president told staffers that conducting such drills was the first step in regaining public confidence.
As you know, society as well as our customers are deeply concerned and worried over the company's crisis management abilities and crisis response structure. I believe it is a very important challenge for us to rebuild this trust.
Related stories
Editor:Zhang Hao |Source: CCTV.com