Watch Video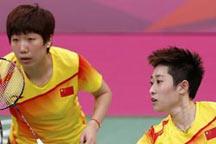 Play Video
Badminton's world governing body has charged eight players with misconduct for throwing their matches at the London Olympics.
Spectators shouted abuse and jeered at players from China, South Korea and Indonesia when they deliberately sprayed shots and duffed serves into the net to concede points in attempts to lose on purpose.
South Korea head coach Sung Han-kook said it was in retaliation against the Chinese team who instigated the farce. He said they had deliberately tried to throw the first of the tainted matches to ensure their leading duo of Yu Yang and Wang Xiaoli would be sure not to meet China's number two pair until the gold medal decider.
Players and coaches of other teams expressed disdain and laid the blame on the Chinese camp. The Chinese Olympic team is now investigating the incident.
Editor:Zhang Jianfeng |Source: CCTV.com