Watch Video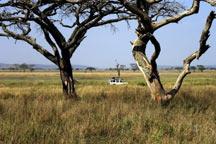 Play Video
International pressure is growing on the Tanzanian government to shelve its controversial plans to build a two lane highway across the Serengeti and Mara game reserves.
The highway is said to effectively destroy the animals's migration pattern.
There is growing anger from conservationists, scientist and tourists companies over a planned highway that could eventually cause the ecosystem of the mara and Serengeti, crashing down.
Direct, indirect and cumulative impact to the ecology is all significant in poaching and speeding traffic are effects of the highway being build, but now both countries of Tanzania and Kenya are looking for a solution or an alternative in this case a highway at the border in Serengeti and mara game reserves.
So far the Tanzanian government has made no response.
The proposed road is planned for the northern part of the Serengeti, linking lake victoria area in Kenya with eastern Tanzania.
Environmentalists are damning about the project, which they say will establish a damaging precedent, implying that Africa's ecological and wildlife assets are up for grabs.
A road will not only force the animals to overgraze in south, leading to dramatic reduction in the sizes of the herds but also aloow in invasive species and lead to greater poaching.
The route is expected to carry 800 vehicles a day, mostly trucks, by 2015 and 3000 vehicles a day an average of one every 30 seconds by 2035, a campaign promise made by Tanzanian President Jackaya Kikwete in 2005.
William Ole Ntimama, Kenyan Heritage Minister, says, "It's a misconception?They didn't think of the Serengeti. I don't think it was a good idea, I did not support it from the start."
New roads are bordering the Serengeti on the eastern and western boundaries without crossing the actual park.
Julius Kipngetich, KWS director, says, "Integrity must be monitored."
The migration goes on an annual 500 kilometers round trip from the Southern Serengeti to the Northern edge of Maasai Mara in Kenya. If the highway is built, that means, the cycle is broken.
For now two alternative routes have been proposed that would allow the movement of trade to western Tanzania by going south of the Serengeti and north into Kenya. Both are longer and more expensive construction projects and would mean an election promise broken to the tribes of the Northern Serengeti.
Editor:Zhang Jianfeng |Source: CCTV.com