Watch Video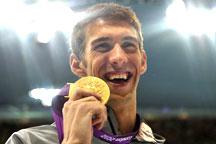 Play Video
Michael Phelps has won his seventeenth Olympic gold and France's Florent Manaudou has triumphed in the men's 50 meter freestyle.
Phelps claimed his twenty first Olympic medal for America by winning the men's one hundred meter butterfly. He beat Chad Le Clos of South Africa and Russia's Evgeny Korotyshkin who shared silver after finishing in a dead heat.
In the men's 50 meter freestyle, France's Florent Manaudou caused somewhat of an upset. Brazil's Cesar Cielo Filho and America's Cullen Jones had qualified joint fastest and were expected to battle it out for gold.
Manaudou's win is France's 4th swimming gold of London 2012, matching its total for all previous Olympics combined. American Jones was ahead most of the way, but finished second. Defending champion Filho, who holds the world record, had to settle for third.
Editor:Zhang Pengfei |Source: CCTV.com