Watch Video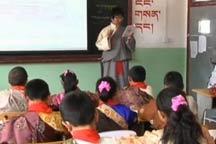 Play Video
Over the decades, there have been vastly different views on the merits of the modernization of Tibet being carried out by the central government. CCTV reporter Wang Guan visited Tibet to find out how development has given Tibetans more choice in life and offered them innovative ways to preserve their culture.
Tibet--one of the most religious places in the world.
Now, on the fast track to modernization...
Modernization has meant an influx of non-religious people from other parts of the country, and subsequent commercialization...
It also means 21st-century infrastructure and perhaps more importantly-- modern-day education.. that gives young Tibetans more possibilities, and better chances to live their dreams.
11-year-old Danzeng Jinmei is a sixth grader in Chengguan primary school in Lhasa, he says English is one of his favorite subjects in school.
"(Wang Guan:Why do you love to study English? ) Because I want to study abroad one day. (Why going abroad?) Because those who study abroad are really cool. (really cool? why is that?) They have a lot of style." Student of Chengguan Primary School in Lhasa said.
While some students are into languages and foreign culture, others find their passion in science.
11-year-old Jinmei Jiacuo says he loves to study physics and is intrigued by all sorts of high-tech gadgets. His dream is to be a scientist and create great things.
"When I grow up, I want to invent a robot, that can help police catch thieves. The robot, I hope, would also remove debris after an earthquake." Student of Chengguan Primary School in Lhasa said.
Modernity doesn't just make young Tibetans well-rounded and cosmopolitan, it takes them back to their roots.
A decade ago, the Tibetan language found its way onto computers and the internet.
That helps these children write and navigate cyber space in their mother tongue.
The digitalization of the Tibetan language has also touched other aspects of Tibetan society.
The Tibet Daily is one of the highest selling local newspapers.
Since a computer-based input method was introduced into the newsroom, efficiency has been greatly boosted and so has circulation.
As a reporter who just graduated from college, Ciren Yangjin hopes journalism in Tibetan will help some people remember their native culture.
"Nowadays more and more young people, they don't know how to speak Tibetan, in spite of their Tibetan blood. I think it's important for them to realize that their mother language is really beautiful and have an important place in Tibet history, in China history."
Nima Zhaxi is the man behind digitalization of the Tibetan language.
After 20 years of research, he invented the first computer-based input system and windows operation system in Tibetan.
Recently, he and his team moved on to creating computer software and mobile phone programs in this ancient dialect.
"There must be a marriage of the ancient Tibetan culture and modern technology. In the era of information technology, Tibetan culture can only be preserved and promoted through the most advanced media."
Professor Zhaxi says the most rewarding thing about his invention is that school-children have been beneficiaries of his research. Because at the end of the day, young Tibetans, he says, must never forget their roots.
Editor:Zheng Limin |Source: CTV.com