Watch Video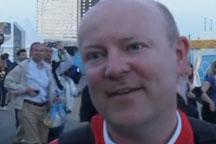 Play Video
Michael Phelps has ended his incredible Olympic career in London with his 18th gold medal for the United States. Fans outside the stadium celebrated the final competitive race of the most decorated Olympian of all time.
"I am going to miss him. He's a trademark of America now! I love him."
"I don't know if someone will dominate for as long as what he has in the modern era, effectively there'll be too much competition in the years to come. So I don't think anyone will do what he's done to match it."
"No way, there's no way Michael Phelps can be replaced. Never. He's the best ever."
"I still think there's a chance he comes back, though, so who knows? We may see him in Rio."
Editor:Zhang Jingya |Source: CCTV.com