Watch Video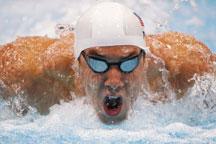 Play Video
The sporting world got their last look at Michael Phelps when the most decorated Olympian of all-time competed in his final race before retiring. The American swimmer though already secured his Olympic legacy, well before he made his last trip to London's Aquatic centre.
Indeed, the American has transcended sport, achieving unprecedented success as an Olympian.
The American ended his incredible career with another Olympic gold medal, his 18th, in the medley relay in London.
But the all-time great got off to a slow start at this Olympics. Phelps' redemption came after finishing fourth on opening day in the 400 individual medley. Since then he has been superb every time he leapt off the starting block.
Phelps won the 200m medley and 100-meter butterfly to capture his 16th and 17th career gold medals.
The American won 4 gold and two silver medals in six races in London after taking time away from the pool.
He said, "enjoy the sport".
Phelps turned London into a farewell tour, where he hung up his goggles and cemented his name in swimming history.
The Baltimore swimmer made his name at the 2004 Athens Games. In winning six gold and two bronze medals, Phelps, still a teenager at the time, had the second-best performance ever at a single Olympics, behind Mark Spitz's seven gold medals in Munich in 1972.
Also, he became the second male swimmer ever to win more than two individual titles at a single Games with four, tying Spitz's four from 1972.
However, four years later, the American, would rewrite his previous record in Beijing. As the world witnessed, Phelps hoisted 8 gold medals and set 7 world records at the iconic Water Cube.
Phelps was expected to win every race he competed in, but no one expected the American would achieve these goals with such drama and greatness.
He said, "records are meant to be broken...."
Phelps achieved the undisputed status of greatest Olympian of all time with 22 medals, his achievement is now envied by Larisa Latynina, the Soviet gymnast who held the record of 18 medals for decades.
Phelps has as many gold medals, as she has total medals. Truly an amazing feat.
Phelps still holds several world records, some he has broken over and over again.
In his career he has won a total of 70 medals in major international competitions -- 56 of those gold.
His prowess in the pool has earned him the World Swimmer of the Year Award six times and American Swimmer of the Year Award eight times.
Now you can add greatest Olympian to his list of honours.
Editor:Zhang Jingya |Source: CCTV.com