Watch Video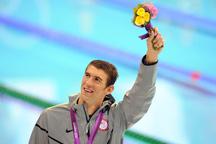 Play Video
The American Swimmer is now holding a press conference on his retirement. Michael Phelps was born on June 30, 1985. He is the most decorated Olympian of all time with 22 medals.
He also hold the all time records for gold medals, gold medals in individual events and Olympic medals in individual events for a male. Now let's go live to the the news conference.
On Saturday, Michael Phelps called his gold medal in the 4 by 100-meter medley relay a fitting end to his career. Phelps' achievements in four Olympics: 22 medals, 18 golds, 51 races and 9,900 meters of swimming.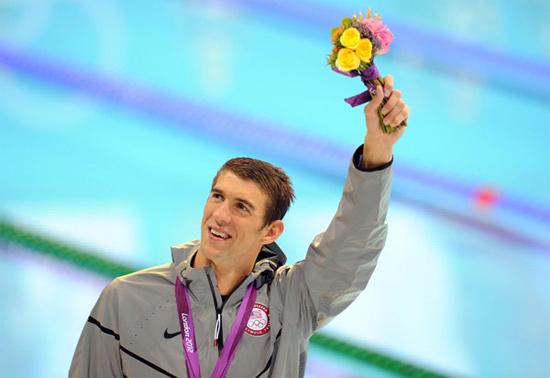 Michael Phelps of U.S. waves to spectators after the awarding ceremony of men's
4x200m freestyle relay of swimming at the London 2012 Olympic Games in London,
Britain, July 31, 2012. The U.S. swimmers claimed the title in this event.
(Xinhua/Liu Dawei)
On July 28, Phelps placed fourth in his first race of the London Olympics. It was the first time Phelps had failed to win a medal in an Olympic event since 2000 in Sydney.
The next night, in his second event of the Games, he got a silver as a member of the 4 by 100 meter freestyle relay. Phelps swam the fastest leg of the US relay team and the second fastest of anyone in the race.
On July 31 Phelps won a silver medal in the 200 meter butterfly and a gold in the 4 by 200 meter freestyle relay, thereby equalling and then surpassing Larisa Latynina to become the all time record holder for Olympic medals won.
On Thursday he bagged his 16th Olympic Gold Medal when he won the 200 meter individual medley. With that victory he also became the first male swimmer to win the same event in three consecutive Olympics.
He repeated the achievement of winning the same event at three Olympics the following evening, winning the gold in the 100 meter butterfly.
Phelps' last event was the 4 by 100 meter medley relay in which he went on to win his 18th career gold medal and his 22nd overall.
Having hung up his trunks, cap and goggles for the last time, the 27-year-old is looking forward to the rest of his life. He wants to travel and see places beyond the pools and hotel rooms of the last 12 years.
His intended destinations include Australia and Europe. And he wants to go cage diving among great white sharks in South Africa with Chad le Clos, the last man to beat him in the Olympics.
Editor:Zhang Jianfeng |Source: CCTV.com